by Armando Milicevic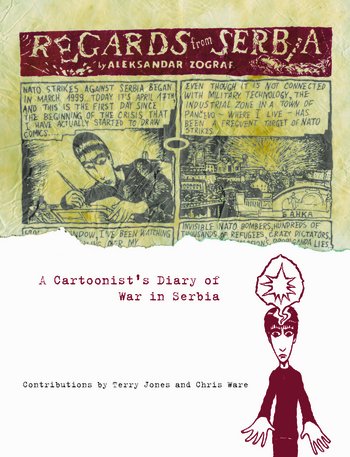 I'm not supposed to like Aleksandar Zograf. He's a Serb, after all, and being an emigree from the former Yugoslavia, I have been conditioned, both by the media and by my immediate environment (and, of course, the fact that some of them have repeatedly tried to kill me), to approach members of his ethnic background with some caution. And for some time, I didn't really care for the guy.
Not that his cartooning style, a unique combination of allegorical imagery of one David B. and the immediacy of American undergrounds, ever repelled me, or anything. In fact, I found his contributions to the Flock of Dreamers anthology from a while ago to be rather effective, visually, even if I wasn't really a fan of dream comics of the non-Winsor McCay variety then (I make exceptions to that rule now). However, having experienced the horrors of the Yugoslav civil war first-hand a short time before, I had a hard time mustering up any sympathy for his autobiographical accounts of life under UN-imposed economic sanctions, which, while admittedly unjust and absurd, struck me as a walk in the park compared to the wholesale slaughter that was still going on elsewhere in the country.
Regards from Serbia (Top Shelf, $19.95 US) brings together most of Zograf's (whose real name is Saša Rakezić) strips about life during wartime, many of which have never seen print here in the States, including a weekly diary created at the suggestion of Chris Ware (who also provides the introduction to this book), detailing his experiences during the infuriatingly misguided NATO bombings of his hometown of Pančevo. It's during this time that Zograf's struggle becomes one for survival, and the sheer ineptness of the international community to respond to a humanitarian crisis in a very productive manner becomes the most evident (the Terry Jones piece on this subject is priceless).
This is not to say that it was the increase in severity of his situation that made me change my mind about Zograf, but rather his dedication as an artist and a storyteller, which is nowhere as evident as in this decade-spanning collection. Putting aside all relevant parallels to current world events, and the value of the work as a historical document, it's his frank reflection of internal and external turmoil of a cartoonist surrounded by death and destruction, and staring down a barrel of an uncertain future, that lends the book a sense of intimacy that only a few autobiographical comics manage to achieve, and ultimately manages to dispel all prejudice by reminding the reader that we're all, after all, only human.