Heading into the end of the first month of 2011, I thought it was time that I finally did a "Top Ten of '10" list. So, without further wait, let's jump into it.
1) Mondo Urbano, Volume One, by Mateus Santolouco, Eduardo Medeiros, and Rafael Albuquerque; published by Oni Press
You may have read my review on this one several months back and noticed how much I loved this book. Long story short, it's fantastic. For me, one of the biggest draws was the fact that three very talented creators collaborated completely on this book. They all took turns writing and doing the art to create a story that is a fantastic tapestry of madness and divinity. I often tell people that the story reads as if Christopher Nolan had directed the film Magnolia in that it is very nonlinear and deals with the threads that connect a group of people to a rock star on the last performance of his life. Simply a masterpiece in story-telling, there really was no contest for this being my top pick of the year.
2) Elmer by Gerry Alanguilan; published by SLG Publishing
This one I haven't had a chance to do a formal review on, but to summarize it: this book is pretty messed up, and that's what makes it fantastic. Just a wonderful, disturbed allegory. It deals with a world where chickens suddenly become intelligent and view themselves as being a race no different than humans. Poignant, brutal, and fantastic! Alanguilan writes this story with a flourish, and his art moves from being, at times, starkly simplistic to menacingly detailed. Definitely the biggest surprise of the year.
3) BB Wolf and the Three LPs by JD Arnold with art by Richard Koslowski; published by Top Shelf Productions
A racial allegory that puts a massive spin on the story of the three little pigs, this one grabs you from the beginning and refuses to let go. It's rare to be able to feel the pain of a character as well as you feel the pain of BB Wolf in this book. Written with a deft hand, Arnold knew the story he wanted to tell, and he tells it in a way that I don't think anyone else could. One of the few books I've read that actually connected to me on an emotional level, I actually felt bad for the main character by the time I put this book down. The amazing writing is coupled with Koslowski's perfect art, which paints a grim landscape for the racial divide of the 1920's. Everyone should read this book.
4) Mesmo Delivery by R. Grampá; published by Dark Horse Books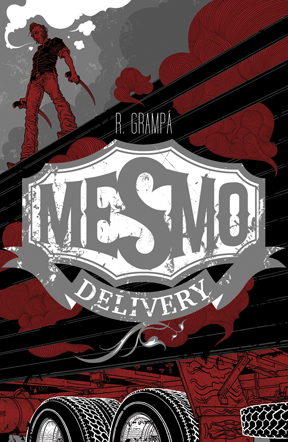 Taking a step away from the seriousness and social commentary that Elmer and BB Wolf provide, Mesmo Delivery is just a bloody good time that shows what happens when a truck hauling a mysterious cargo for the mob stops off at a remote truck stop. This one… it's just awesome for the sake of being awesome. Grampá's writing is a bit choppy in this one, but it's not a book you get wholly for the story, because the art and layout are so essential to this being complete. Grampá is rather reminiscent of Geoff Darrow, only he comes across as being more intense and more experimental. If you just want a good, fun read by an amazing, rising talent then this is one you must have.
5) Sweets by Kody Chamberlain; published by Image Comics
Alright, this series hasn't finished yet, but the majority did come out in 2010, and that's why I'm including it here. A fantastic crime story that takes place in New Orleans, LA in the few days leading up to Katrina, this little gem is an example on how a miniseries should be done (with the exception that, like all Image Books, this one doesn't understand the point of a publishing schedule). The art is beautiful and bleak, being very minimalistic on the colors. It drives the story, and the pages almost feel as if they are bleeding into reality. Kody Chamberlain is a new writer to be reckoned with.
6) American Vampire, Volume One, by Scott Snyder and Stephen King with art by Rafael Albuquerque; published by Vertigo Comics
This book really ties at number five, but I didn't want to confuse anyone. Scott Snyder is one of those names that has been lurking around comics for a few years, notable over at Marvel, but he truly makes a name for himself by creating a truly unique vision for a vampire story and setting it against the backdrop of 1920's-era Hollywood. Rounding out the story, Stephen King writes the back-up story, which is a prelude to Snyder's masterpiece. Horrifying, unrelenting, and full of carnage, the entire work is written with a compassion that is almost always absent in horror comics. Still, this story would be nothing without Albuquerque's lavish artwork. His lines are like razorblades tearing through the pages. Vertigo, a company known for amazing stories, truly outdid themselves by publishing this series.
7) The Invincible Iron Man: Stark Disassembled by Matt Fraction with art by Salvador Larroca; published by Marvel Comics
Generally, Iron Man is a pathetic excuse for an interesting character in the realm of comics. Tony Stark is a jerk who you really never have reason to want to win/live, except for the fact that he's a good guy. Enter Matt Fraction. Following the "World's Most Wanted" arc that actually made Tony seem almost likeable, Fraction turns the title on it's head by taking us into the mind of Tony Stark as he tries to come back to a world that, surprisingly, needs him. There is real heart in this story, as well as philosophy, humor, and some laughs. What makes this story stand out further, however, is that Iron Man never really appears, and Tony Stark only appears for a little less than half; the story focusing primarily on the friends of Tony and what they are doing to bring him back. The best book that Marvel puts out monthly, easily containing the best art by the brilliant Salvador Larroca, this is the one superhero book you should be reading.
CBGB: OMFUG; published Boom! Studios
An awesome anthology series, CBGB: OMFUG was the perfect example of an indie comic. Showcasing relatively unknown writers and artists, the series consisted of eight stories that dealt with the almost-mythical CBGB in New York, the practical birthplace of American Punk. Like all anthologies, there were some misses in art and story-telling, but damn if the whole ride wasn't worth taking. Not a book for everyone, this is for people who were there, wish they were there, or still feel like that time and place has never really left us, just shifted to another, parallel plane that is waiting to be tapped into again.
9) Duncan the Wonder Dog: Show One by Adam Hines; published by Adhouse Books
Few books actually showcase what the possibilities are of writing in the graphic medium, and this is one of those oddities. A very multimedia feel to the art that juxtaposes from almost black pages to pages that are crowded and near confusing, Duncan the Wonder Dog is an oversized (format, not story) that is a conundrum of story-telling. It takes time when reading to get your bearings, but when you do, prepare to be amazed. Another story dealing with talking animals, reading this book reminded me of Orwell's Animal Farm. Painstakingly beautiful, with art that ranges from dark simplicity to loose insanity, I loved every aspect of this book and eagerly await the arrival of the next volume.
10) Two Generals by Scott Chantler; published by McClelland and Stewart
This is one of those books that is wonderful and rare. Scott Chandler shares the true story of two friends (one of whom is Chantler's grandfather) during World War II. It's a story of love, loss, friendship, and the ties that bind. Drawn very sparingly, this book is meant for anyone who loves a true story, a war story, or who has ever had a friend. A fine example of the brilliance of the craft of creating comics, this story could not have been told like this in any other format.
Honorable Mentions:
Tumor by Joshua Hale Fialkov and Noel Tuazon; published by Archaia
A gritty, hard-boiled noir story that takes us through a seedy underworld as we follow a private-eye with a brain tumor on his last case. Bleak, desolate, and just hard-hitting and brutal. The art is a little schizophrenic at times, but overall it does much to compliment the story. Great for fans of Ed Brubaker.
Philip K. Dick's Electric Ant adapted by David Mack with art by Pascal Alike and Christopher Sotomayor; published by Marvel Comics
A great story dealing with the questions of what makes us human, David Mack translates Philip K Dick's vision so well it's scary. The story is paranoid, moving, and confusing, placing the reader firmly into the mind of the main character. The story builds so effortlessly. It's a shame how under the radar this book was for how masterfully written it was. At times, the art does tend to border on hopeless, but, for the most part, it is a perfect match for the story. A must read for any fans of science fiction.
Meta 4 by Ted McKeever; published by Image Comics
Anybody that has ever read Transit or Eddy Current knows that Ted McKeever isn't for everyone, and Meta 4 is no different from that mold. An astronaut awakens on a beach with no memory of who he is. He hears voices, is aided by a very large woman dressed as Santa Claus, and is seemingly on the run. Schizophrenic, maddening, confusing, and too philosophical to be called philosophical, this is one bizarre book. I'm still waiting on the last issue to come out (it is an Image book after all), but I truly can't wait to see how it all wraps up.
Darkwing Duck: The Duck Knight Returns by Ian Brill with art by James Silvani and Andrew Dalhouse; published by Boom! Studios
This one really doesn't fit with anything else on the list, but, dammit, I do love me some Darkwing Duck. This book is everything I loved about the TV show: quirky, fun, irreverent, and yet there is a story within it. The art matches the television show perfectly, and it's written so spot on that you can hear the character voices as you read the words. I was so happy that the miniseries got picked up to be an ongoing series. The most fun I've had in a comic this year.
Revolver by Matt Kindt; published by Vertigo Comics
A great multiple-reality read that focuses on a young man living in this world who hates his job, his boss, and his girl, and who longs for escape. He goes to sleep and wakes up in a world ravaged by bio-terrorism, marshal law, and mass destruction; a world where he can be different. The art, though simple, does well to capture the bleakness of the main character's life in our world, and the misery and destruction in the alternate world. A good story that reflects who we are and who we want to be, this story was very nearly perfect, which is all that we can ask for these days.
Demo, Volume Two by Brian Wood with art by Becky Cloonan; published by Vertigo Comics
Yeah, we all knew Brian Wood was going to show up on this list somewhere, and so here he is. I won't lie, this six-issue follow up to Demo wasn't all that I had hoped for. In truth, two of the stories were fairly horrible, one was so-so, so I'm going to focus my thoughts on the three best ones. "Volume One: Love Story", "Waterbreather", and "Sad and Beautiful World". These stories resonated on the same tone as the first volume of Demo, pulling on the heartstrings and immersing you in lives that are so reminiscent of your own that it is very nearly terrifying. Still, Demo is nothing without the art, and Becky Cloonan doesn't let down. She shifts her style to match the tone of each story, making it all seem that much more poignant. Story-crafting at the highest level. In all honest, if all six issues had been on par, this would have been in the top ten.
And there it is, my favorites for last year.